The backbone of any service business, right after the labor force, is the equipment.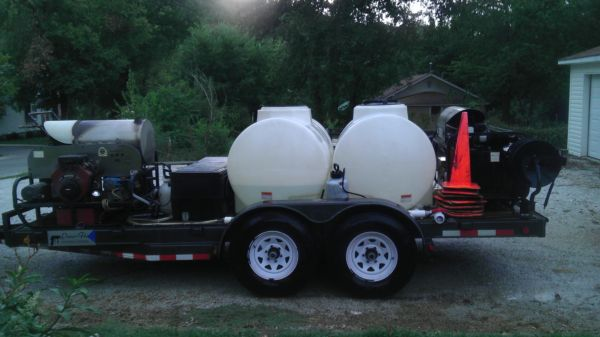 And the best way to monitor and mange that investment is by keeping good records including all maintenance needed and done. I think every business should keep track of their equipment maintenance and here is an inexpensive way to do it, to make and keep a log book or binder.
When you first purchase a new piece of equipment it comes usually with loads of printed materials most of which, guys I know, will loose or throw out within days of getting it. And I know most of us could care less about the extra pages written in Spanish or other language, but file those away too, you never know when you may have hired an employee that could use it.
So the first rule is to look at each piece of paper, to see what exactly it is and use it to create an individual maintenance plan for that specific piece of equipment.
You will get the bill of sale listing the name of the equipment, model number, and other information like motor size, dimension etc. You will need to make a few copies of this; the original needs to go with the method of payment you used to make the purchase, like a check or attached to the paid credit card statement for regular bookkeeping but you should also have it other places as well. You will need a copy to place with your tax records so you will have the info and value for your accountant to figure your taxes for your equipment deductions, a copy should go in your insurance file in case it is ever lost, damaged or stolen and to be sure you level of coverage is high enough for all your equipment on hand and last a copy should go into your maintenance log book. It is also a good idea to list on or attached to the receipt how and where on this piece of equipment it is going to be marked or identified as yours. Good rule is to permanently etch into it a specific code. I personally like the, Initial(s) followed by the last 4 digits of a SS or Tax ID number format. My personal one I use is LMC3285 or for Soap Warehouse SW3660.
Next is the registration card, DO NOT THROW THIS OUT. Not every item will have one but this card can be more important than the paid receipt. Make sure you fill it out completely, make a copy of it (front and back) and mail it back to the manufacture. This way you will be made aware of any recalls, defects or warranty issues by the company. This also identifies you as the owner of the equipment for insurance coverage and starts the warranty period. If you wait or forget to send it in you may not be covered for warranty repairs. A copy of the card should stay in your log book attached to the manual.
The owners manual. The one thing guys never seem to want to completely read. If it is small (a folded page or two) make a copy and you can place it in a file with other equipment instruction papers but no matter what the size you will want to be sure a copy of the entire manual gets placed in the log book for easy reference. Best if placed in zippered binder folder so it will not fall out or be damaged. This way at any time you can reference the manual on how to change a part, trouble shoot a problem or refresh yourself on how to use a seldom used item or equipment feature.
Next READ THE MANUAL cover to cover, taking note of important information you will want handy, like type of oil an engine may need, make a list of sizes of belts, hoses and other replaceable parts you may need to change or replace often. It would be smart to go ahead to order, to have on hand, at least one of each replaceable item now while it is still easy to get the part, to have it readily available. Consider these parts purchases as just the additional cost of the initial equipment purchase, you can even deduct it just like the equipment itself. This way a small break down will not leave you high and dry and unable to finish a job looking or waiting for a part. Also once a part is used, immediately find and purchase its replacement. Nothing is worse than having a machine you love break down after years of service, to find out a simple part you would need to get it working again is no longer available, forcing you to purchase a replacement under pressure. If later if you sell this equipment you can include the spare parts in the sale as a bonus or feature of the sale.
While reading the manual you will find out information, like how often the oil needs to be checked, added or changed, ex: Top off after first 10 hours of use, Check oil every 100 hours of use, Change with new ND SAE 30W every year or 1000 hours of use. This is the type of information that you will use to create your maintenance schedule in your log book.
Now you should be able to get by with just a 1" or 2" three ring binder to use for your log book. But for the businesses that have gotten so big that they have multiple rigs, vehicles and crews you may want to look at and invest in some Maintenance Software Programs in addition to having a binder with each rig out in the field. Some can cost thousands and others just a few hundred dollars from easy on-line downloads.
List of items to buy:
1" or 2" three ring binder(s) - Can be one for everything or one for each rig, trailer or truck unit you have.
Pack of page dividers, what ever kind you like. Enough for one for each peice of equipment.
Zipper binder pockets for manuals, come in different sizes, buy as needed.
Pack of assorted binder pockets for receipts for short term storage, normal page size.
Package of three ring page protectors 25-50 should be plenty to start.
A 8x10 or 8x11.5 calendar for the current year (you can probably get this free from some advertiser or vendor).
Set up the binder the way that is easiest for you to use, alphabetically by item name, type of item, small items to largest, by location ex: which trailer or truck it is on. Punch holes in the folded edge of the calendar to fit the binder rings and place it in the very front of your binder. You can fold over and change to each month as needed through out the year. Put the name of the location followed by equipment name in the tabs of the page dividers. Put one of the log sheets (see sample below) in a page protector behind each tab, followed by a binder pocket to place receipts for parts and repairs until you can enter them and move them to their permanent location, the zipper binder pocket with the manual is the last thing before the next equipment item divider page to start it all over again.
Now each log sheet (see sample provided) has the name of the equipment, make and model. The place purchased, the date purchased and date equipment went into service. The next section will list the next scheduled date for maintenance, date when serviced, what was done, who did the work and how much it cost. There is also a place to list parts, by name and number as well as space to list where to call to purchase the part, and normal cost of item so you don't have to waste time looking for it. Depending on how many entries must be made, each sheet could cover more than one year or you can plan on replacing a new sheet each year per item.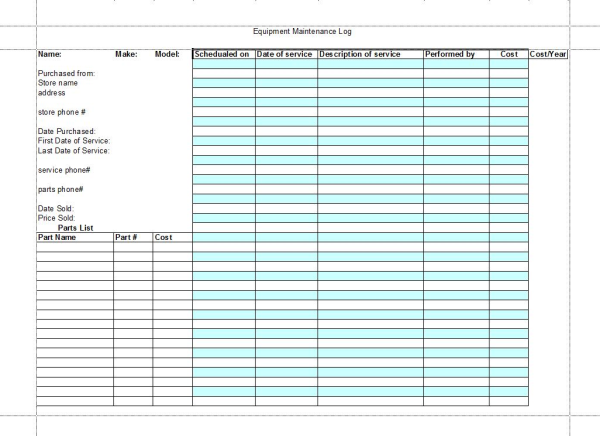 The very last bits of information are the dates the equipment went out of service and when this items was sold if applicable with selling price, which may be needed by your accountant. Once the item is taken out of service or sold you can remove that section out of your binder to file into your other office files.
With this binder you will be able to see at a glance all your equipment in service, look up and plan dates on your calendar when to do maintenance and keep records of the costs for maintenance. You will still have to enter the scheduled dates on to the calendar and the figures into your bookkeeping records or software program but this way it will be easy to find the information you need.
Pick a certain time of the week or month to check your calendar to schedule to do the next upcoming needed maintenance for your equipment. This way you can make sure your equipment will always be available and in top condition for scheduled work.
If you would like a copy of this Excel Log book sheet, contact me at info@soapwarehouse.biz subject: Maintenance log sheet, and I will send you a copy of this page that you can customize for your business.