Well you can thank the new OSHA GHS labeling system for that.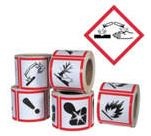 When we were using the HMIS labels and a MSDS, for an ingredient to be considered a hazard, a hazardous ingredient had to make up more than 5% of the product. With the GHS labels and new SDS's that amount has been lowered down to 1% to be deemed harmful. The temperature level for what is considered flammable was also lowered.

Therefore many products with certain dye colors, now have to be listed as having carcinogens, may cause cancer. Many other small amount ingredients have to show that they are Corrosive because they will cause burning to the eyes if exposed due to splashing.

The same item you bought at the first of the year with a HMIS label of 1,0,1 may now have to have a 2,1,1 rating.

Nothing has changed but the percentage that reporting must start and the ranking of the hazard. For instance that small amount of ethyl alcohol in a product that before was not even listed on the MSDS and carried no flammable rating, all of a sudden is on the SDS and may make the product flammable enough to rate it a 1.

And do not think customers are not going to notice all the red border warning labels showing up on the side of the products you are using. You need to be informed and prepared to be able to defend what you are using. It is not fair that the bleach you buy that is for industrial use is going to have the Exploding Chest symbol on it but that same bottle if sold in the grocery store will not.

OSHA is only able to demand things in the name of protecting the working sector, not the home consumer. What a double standard our government is creating.

But don't panic at all of it yet. At least for now just because the hazards for products are increasing the DOT hazardous classifications have not changed and even though a product may have health hazard labels all over it, it will still ship DOT non hazardous like it always has, at least for now. Unfortunately if a product was already DOT hazardous it will still be.

Be prepared and keep updating your SDS binders, it is going to be a long next six months.