Many times when I am speaking with customers on the phone I ask them if they will be attending a conference, roundtable or convention that is coming up in the industry. And more often then not I get the response "No". When I ask why they will say things like; "It would cost me too much", "I can't take the time away from my business, or I work by my self", "I have never been to a convention", "If I was not here my crews wouldn't do the jobs right."
So when is the last time to you spent the time and money to improve the way you do business? Took a refresher course or class to learn a new skill set? Networked with peers? These types of activities should not be considered a luxury for your business; they should be a necessity, just like your equipment and labor.
Here are some major selling points on why you should attend these types of events.
·Learn first hand from industry experts that have successfully implemented business solutions in your industry
·Keep up to date on new and emerging products and methods
·Create or increase your professional network
·Learn talking points to communicate more effectively with customers
·Get immediate ideas, answers and solutions to issues within your industry and business
·Learn new and profitable marketing techniques
·Meet new vendors that can decrease expense and increase revenue
·Hear new product announcements
·Visit multiple vendors in one location
·Get answers directly from vendors about products
·See demonstrations of equipment or products in action
·Do comparison shopping
·Talk with others who are using a product or service you are researching
Conference events offer opportunities to expand your knowledge base, improve your skills and network with others in your field. You can find out what your peers are doing, what the new trends in the industry are, and where there's room for improvement. Learn what involvement role you can be in to help your industry as a whole.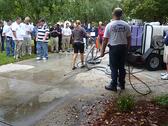 At these events, you can participate in special sessions specifically designed to stimulate your personal and professional growth. These can help you increase your ability to do a job, learn how to influence others through communication and marketing skills plus help you develop a personal brand that is distinctly your own while vastly improving your chances for success.
You'll have the opportunity to meet some top-dogs in your field. You'll get to ask them what keeps them motivated and rejuvenated on the job. Through them, you can glean valuable insight on their journey to the top. Conference's and Convention's are your golden opportunity to cultivate relationships with these industry superstars – what could be more profitable than that?
Attending an event is one of the most exciting, accessible opportunities for breathing new life into a job that's feeling dull and mundane or for a business that is floundering or just stagnant. When I came to work for Soap Warehouse over three years ago, I was determined to help our customers improve their business that in turn would improve ours. I am always amazed at the level of energy attendees achieve by meeting with their peers; the contractor's passion for their field is palpable. Everyone has so much fun throughout these events and they take that enthusiasm with them when they go back to their workplace.
So let us get back to the main reason people do not attend events, the costs. Travel costs, hotel rooms, learning sessions, meals and camaraderie with peers. Sound familiar? Sure those expenditures are on the Con side of the argument but what about the Pro side, and how what you can learn can add up to future cost savings and increased revenue in the long run?
Take the plunge and attend an event. Create a spreadsheet and list all your expenses on one side. Once you are back home those costs will not change. Then list each thing you learned and as you implement them note what monetary improvements you gained from them. Ex: a new marketing technique gains you 5 more clients a month vs. your old way. How much extra income is that generating? Ex: Using a different soap decreases your cleaning time, As the weeks and months go by you will be able to see and track how valuable those upfront expenses have been to you. Granted some event costs may take longer to be recouped then others, but I have yet to regret attending any event as an attendee or exhibitor in the long run. I think after you give it a real try you will agree with me.