This can be a big question with plenty of Pros and Cons. Here is a list of 10 things you should ask yourself before making a decision.
1. Do we already own the equipment needed to do the job properly? Is it in good condition? How much is the yearly up keep? Have the room to store it? Cost of Insurance for theft?
2. If we do not own, would renting equipment for the times needed during the year make sense economically? Available when we need it?
3. If we own or rented do we have personnel qualified and trained to safely use the equipment, the chemicals?
4. Do we carry the correct insurance to do the jobs needed? Including any damage that could be caused during cleaning?
5. Do we have access or have purchased the correct chemicals to do the different jobs we need completed?
6. What and how often do we need cleaning to be performed? Ex: exterior siding, roof wash, parking lots, sidewalks and driveways, play ground equipment, pool deck area, pool tables, chairs and lounge chairs, tennis courts, entrance signs, Brickwork and fences.
7. What is our cost per job in labor, equipment and chemicals compared to hiring a contractor to do the work?
8. If we hire a contractor for the labor and equipment, would there be a savings in buying and storing the chemicals our selves to have control over what is used?
9. If we hire what criteria are we to use to vet the applying companies? Are they member of a professional organization, have they taken courses and are certified in certain work, are they licensed and insured, do they specialize in property maintenance?
10. Do we know and can follow the local regulatory cleaning and waste water issues for our location?
All these factors will need to be addressed to know which is better, in house vs. out sourcing.
If you decide to go in house we suggest you purchase professional pressure washing equipment, NOT the consumer grade washers sold at the home improvement or department stores. For the long term investment, multiple and wide range of work the above listed tasks require, you need to purchase equipment made to hold up to long hours of service.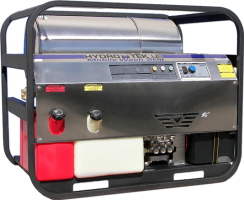 For most large properties, you can have at least one type of cleaning job per month on site all year long to properly maintain it. Same goes for purchasing the accessories such as hoses, wands, tips, brushes, poles etc. We suggest to buy from the same companies the professionals do such as Pressure Washer Direct, Landa, Hydro Tek, Hotsy. Also try to buy from a local distributor that can give you local support, service and repair.
Many local distributors also sell chemicals but there are some companies that specialize and only deal in chemicals like Soap Warehouse. Here you may find you can purchase chemicals that is more cost and cleaning effective than buying from the big box stores or paying a contractor to use his own chemicals. This can also sometimes save time or a delay in a contractor having to get the chemicals before they can come and do the work. It could also give you a greater reduction in the cost of the job when you take the cost of chemicals away from the contractor.
If the cost is too expensive overall for you to do your self then we suggest you look to find a qualified contractor in much the same way as any equipment. First go to professional organizations in the pressure washing industry to find contractors who have taken the time and money to be a member and most likely has taken classes and training over the years. Power Washers of North America, United Association of Mobile Contract Cleaners, Pressure Washing Resource to name the largest.
Even if hiring a contractor you may want to purchase the chemicals yourself. This way you know what and how much is being used, that the correct chemical was used for the job or if you have environmental issues you need to control that you know it was being followed.
You may find that hiring a contractor or two, if you need specialize services, may be in the best interest of your property in the long run.