Today's technology is moving at a break neck speed with every week bringing new ideas and better ways to do things in your life and for your business.

It use to be that a business could not survive without a yellow page ad and some one sitting in an office ready to answer that phone call.
Then we moved on to where you did not have to have an office as long as you paid for someone, sitting who knows where, that would answer your phone (via transferred phone number) at a answering service that you could call into to get your messages.
Now you do not even have to have a person at all to answer any and all of your phone numbers, that will record messages and even get the person that is calling directly to the person or information they need just by following an on line phone tree.

In the past decade over a dozen Virtual Phone companies have started up and some are better than others, by either the services they offer or by their cost for the features offered.

Here is a list of the top 12 contenders that are out right now:
• Grasshopper
• VirtualCallSystem
• RingCentral.com
• InPhonex
• VoiceMeUp
• Callcentric
• Phone Power
• Jive Communications
• VoIP.com
• BroadVoice
• Ringio
• Halloo
Read more: http://virtual-phone-systems.bestreviews.net/grasshopper-reviews/#ixzz3QDgk4SUv
So why is Grasshopper on top? I will go over for you the pro's and any con's I could find of using Grasshopper virtual phone service for your business.

Pro's
•Takes number of phone lines and with the web connects them into one integrated system. Toll free, landlines, mobile and even other VoIP accounts.
•No hardware is needed.
•Get a toll free or local numbers as needed. Even Vanity numbers.
•Lines can be added or removed immediately from an online dashboard.
•Incoming calls will be answered 24/7 usually at the first ring.
•Recorded greetings can be in your own voice or with their Voice Studio.
•Have more than one business? You can have different welcome messages for each.
•Free on hold music.
•You can pay for only what you actually use, per call and length of the call.
•Unlimited plans are available for high volume users.
•Free activation to start service.
•Free 24/7 live technical support.
•No long term contracts, month to month service.
•First 30 day money back guarantee.
•Can change plan up or down each month as needed,like with the change of seasons.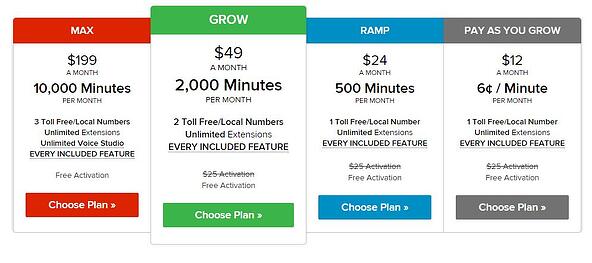 •A top customer service rating.
•Businesses no longer have to buy and supply phones for employees with dedicated phone numbers.
•Any employee can use their own device to receive and even make business calls (with an app).
•Calls can be transcribed and e-mailed to a phone as they happen instead of having to be called up and listened to at a later time by a user.
•Faxes from callers are sent as a PDF in an e-mail.
•Analytics that can tell you where and when each call came from and where it ended up.
•Calls can be set up to go to a call queue to go to and be answered by one person.
•Unlimited amount of call handling, no busy signals for customers.
•Information extensions, like mailing or e-mail address, hours of operation, etc.
•Block robo callers or solicitors numbers at any time.
•Call screening, caller ID by phone number and name.
•Call transfer if after you answer the call you need to send the caller to another person or voice mail.
•Need to speak to all your crew managers at once but don't want to have them all come in for a meeting, just make a conference call and talk with them where ever they all are all at once, saving time and money.
•Employees can use a mobile app to make calls to customers that only shows your businesses caller ID, NOT the employees phone info.


Con's
•On the entry level plan you are paying a base $12 then a per call per minute fee which can add up if you or your customer are not mindful of the running clock and you start getting a lot of calls.
•Some customers calling in do not like having to first listen to a message and go through a phone tree to reach you or leave a message, they want a person from the start.
•You may have to be mindful of an employees phone and plan limitations and make compensation to an employee that is using their personal phone for your business if they can't use the mobile app.
•Employee could misuse your paid out going phone number (that is part of an app) for their personal calls.
•Since this service is 24/7 your phone could be going off at all hours and be hard for an "A" type personality to turn switch the service off and stop working.
As you can see I could not find many Con's and looked on line for dissatisfied customers without much luck. I did find a few but for the majority of users they have been very happy with the service some for many years.
So if you want to give your business a larger than a single owner/operator appearance or a professional aire, I suggest looking into one of these especially Grasshopper.