This is the last of my series on Spill Kits. I have told you why you need one, how to put together one your self and now we get to the part of actually using them.
Here are the steps you need to take when you see or are made aware of a chemical spill:
1. Is the spill still happening? Ex: a value is open and chemical is spilling out, a barel tipped over and contents still inside is still flowing. Safely stop the flow first. Put on gloves if needed and stop the flow.
2. Has someone been injured by the spill? If Yes open the nearest Spill Kit, put on PPE and remove the victim. If no victim or if someone else can handle their care go to the next step.
3. Determine what has spilled; look at the container it came from, look for labels. If you know what it is and what spill kit to use move on. If not then start with a Universal or General kit until you learn otherwise. If you can identify it but do not actually know how to handle this chemical, go get the SDS and check it for what PPE and clean up measures it tells you.
4. Once you know what it is and which type of Spill Kit to use if you have not already needed to open the kit now and put out the safety measures to keep others out of and away from the spill. Enlist others to do this if possible so you can get right to the spill.
5. Put on all needed PPE if you haven't earlier. If the spill is large, and more than one set of PPE is included and someone else is available have them get ready to help you.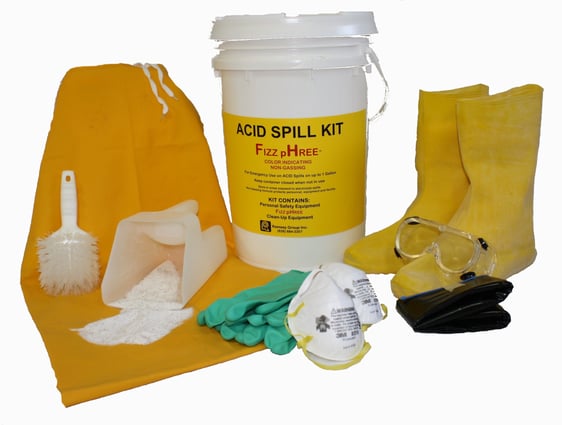 6. Contain the spill with supplied barriers; socks, booms, sand, drain covers, etc. Start with the highest hazard. ex: spill running toward a drain, electricity, road, stream, down a hill, etc. Choose the best route for cleanup according to the surroundings of the spill.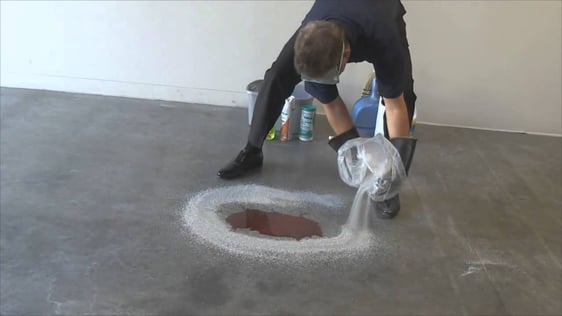 7. Once contained, meaning the spill can not get bigger, neutralize if needed. Ex: if it is an acid or corrosive.
8. Once neutralized start to apply absorbent materials; pads, pillow, sand or other loose absorbents. Work from the outside edge inward. Continue until you have used enough to absorb all of the liquid or you have run out. If you have exhausted your supply and you still have a center of liquid move or put down barriers at the edge and start removing the absorbed materials while more supplies are found or until official first responders can get there.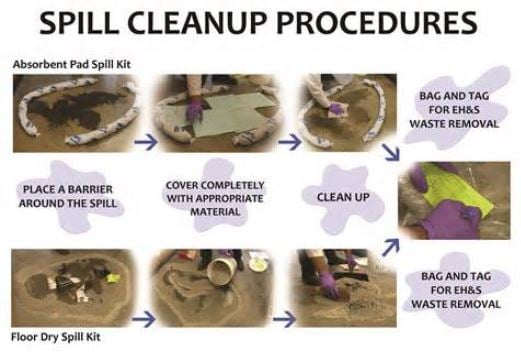 9. Clean up using broom and pan, shovel or other supplies and empty into a clearly marked as hazardous, approved container for removal; bags, bucket, pail, etc.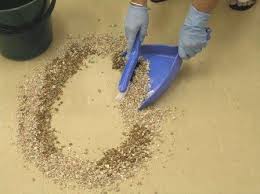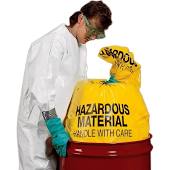 10. Clean spill area once cleared of spill with regular cleaning supplies; mop, neutral cleaner, sponges, etc. and discard them as well as they could still have traces of hazardous chemicals on them. You want to clean with a neutral cleaner so you don't have any chemical reactions with the residue from the spill.
11. Once cleaned and dry, remove all warning safety measures you had set out.
12. Immediately restock Spill Kit or replace with a new one until you can resupply.