Many people start of a new year with resolutions. Things they want to accomplish either just for themselves or for their business, some big some small. But we all know that a majority of these promises by this time into the year are already starting to slip. Here are ways to be able to set a goal and stick to it through out the year.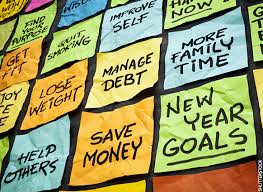 First you have decided to do something. Work out at the gym, eat better, get more sleep, cold call three new potential commercial customers a week, start or upgrade your referral program, etc. It does not matter what it is just that you pick a goal with a set desired end result.
Next you need to commit to it with a deadline. If you goal is to loose weight, set a certain number of pounds not too far into the future, say 10 lbs in 6 weeks. Or You want to have two new commercial contract customers by the end of next month. Setting a deadline to your goal even if not the entire amount of the goal helps put urgency to the goal and keeps you on track, so that you do not fall too far behind by the time the deadline is here.
Now write down your intentions or steps you plan to do to get your goal accomplished. Writing things down helps get your mind into the game. What steps will you need to do to get those two new commercial accounts. This will help you figure out if your goal is even reasonable.
1. How many do I need to contact?
2. Research and choose the best prospects.
3. Plan to go by, introduce yourself, leave materials.
4. Contact back to set up a time and day to do a demonstration.
5. Go and do the demo.
6. Get a commitment.
If you already know from past experience that it normally takes you five cold calls to set up a demonstration, and of those demos you normally sign one out of three the first time then that means you will need to make 30 cold calls to reach your goal. That is a lot of work for one months time. Do you have the time to commit to the goal of four weeks or should you extent it? Are there other ways to lower those numbers? Better research, using other resources like Linkedin?
Good cold calls take time to research. So you will have to set yourself a few hours each day to select companies you want to target. Just randomly stopping as you drive around town might work eventually but that could be a waste of a lot of expensive marketing materials, if you are doing more than just leaving a card. And may change your result numbers, taking more cold calls to get a demo, more demos to get a client that will be more time away to do jobs that are actually making money.
Try to map out as many visits as possible in one area, at the times you are most likely to be able to see or at least briefly meet with the person that could set up a demonstration with you. If not just leave your marking materials and after talking with whom you do see, tell them when you will be calling the correct contact back. Be sure to get a card of whom will be the person to talk to, or their name, position, e-mail, number and when they are most likely to be there to take a call.
Once back in the office send a pre-written e-mail to the contact explaining who you are, what you would like to do for them and that you left materials there at their office for them to examine and tell them a set time when you will call to speak to them about setting up a demonstration. If you ask in the email for them to call you or ask for the meeting then most likely you will not get it. Give them some time to look over your information and call back when you said you would. Even if they can not take the call or are not there they will know you are serious and punctual.
Follow up with constancy is the last part of reaching your goal.
Once you do speak to the potential client even if they decline the demo. Keep them in your sales funnel and keep touching back every 3-4 months to see if conditions have changed.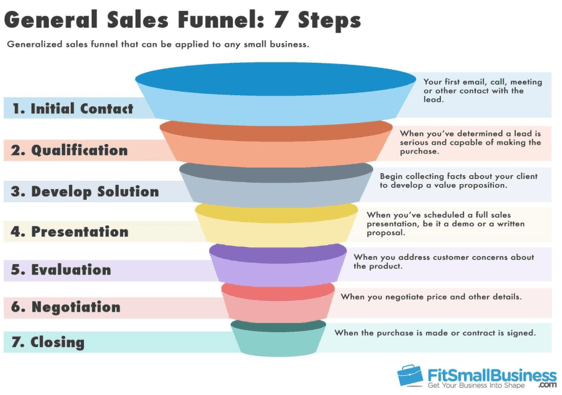 Having a nurturing program that continues follow ups and keeps potential new customers in your sales funnel is the key to reaching your goals. Steps 5-7 can be the hardest and the longest. Keep working and you will be rewarded.