Finding new ways to market your business with out breaking the bank is one goal almost every small business owner wants to find.
During this month I plan to give you some suggestions, links to resources and hard facts to try and help you reach this goal.
Social Media is the new way to reach old and potentially new customers. Inbound Marketing is the future of small business. Outbound marketing may become all but extinct in the next 10 years. It is necessary to have more than a web site these days and to try and find customers via direct mail, e-mail and other media campaigns. Customers are tuning out and avoiding traditional methods business use to use to sell their products and services. New prospects want to find you when they need you, not you find them and interupt their day. They want real value and information even before they are willing to contact you about a service you could provide for them.
As we know most web surfers will make a decision to stay on your site in less than 3 seconds and many web analyst's are saying that it has moved down now to less than 2 seconds.
So how can you make your web site be the one a service surfer will find and then stop and take a look at?
I will give you a list of 5 key elements here and then elaborate a little for you under the list.
Quality information above the fold and on the left 1/3 of the web page.
An obvious offer and call to action.
Examples of how to solve their problems (the reason they have searched)
Include visuals (especially video)
Ways to continue to be educated or engage if they want too.
With #1, it must be immediately clear to the viewer that they have found a site that matched their search no mater what it was; example seeing a house being washed for house washing, a painter painting a room for a paint company, etc.
Your business name that corresponds with the work you do: Bill's Pressure Washing and House Cleaning. You can even use multiple names and have multiple sites if your work is strongly divided, such as All Kitchen Hood Cleaning and Bill's Pressure Washing. You can still use one phone, just have two separate numbers that are forwarded to a single phone, most phones now will let you know where the number was forwarded from so you will know how to answer the call.
Or you may need to have multiple landing pages added to your web site, designed toward each part of work that you cover. It no longer smart to have just one main page of your web site listing everything you do. You must have that plus a page for your deck cleaning and repair, roof washing and gutter cleaning, house washing, concrete cleaning, Christmas light decorating... any job you do can have its own page which in turn can all link back to one contact entry page.
And with so many new searchers using their phones, iPads and other smaller screen devices you will need to revise your pages to give those viewers information in the way they will see it, only the left top 1/3 of the page.
Ok on to point #2. Now that your surfer has stopped you need to grab them with an offer and call to action. Do you offer same day free estimates? Free gutter cleaning with new roof cleaning? 20 sq ft free concrete cleaning with each 100 ft cleaned?
What ever the offer is, make it stand out, be clear and then have an obvious button to click on for them to take action with. I could write a complete blog just about how to do this, and I will, but for now just know this is what needs to happen to get the contact.
Point #3, to be able to give examples of how you can solve their problem, you first need to know what that problem is! This is where creating pages within your web site with Meta tags and key words to specific words and long tail phrases people to search are become very important. You want some one that searches for "lowest priced house washing in Fulton county" to find your page on house washing, not to be taken to someone else's page or even to your web site to a page about deck washing or roof cleaning, even though you may do all three, that surfer will have clicked off your site before you can blink. I will expand on this in a future blog post.
#4 - visuals. Visuals are becoming more and more important to surfers; they don't want to have to read everything they want to know, they want to see it. Pictures tell the story many times much easier and faster than words can. The brain can process pictures over 10 times faster than when reading information that the picture is showing. For example: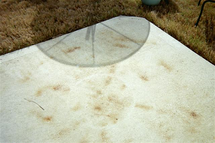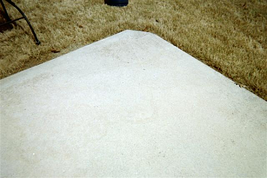 These Before and After photos of removing rust from a concrete patio is understood much faster than reading the statements. "We can clean your concrete patio, walk way or drive way from rust, dirt, oil, and tire marks." or "We can remove rust caused by patio furniture, so on and so forth." Not that you should not still make the statement, but understand that people scan information, especially text and photos catch the eye. Videos are even better. You can improve the time spent on your site tremendously, sometimes by more than 20% with video. For example if your average page view is currently 6 seconds and you add even one 1 minute video, when it is watched you have increased your view time over 10%. Have multiple videos available that are shorter like 20-30 seconds and you will increase the number of videos a single person will be willing to watch and you can reach view rates of 20-40% higher than your starting 6% rate. Be sure to state near the video how long each one is to increase the chance of even the first view. People will not click on videos they feel are too evolved or will abandon one once it starts if it is moving too slowly or does not start to answer their problem or question.
Lastly give your surfer the option to learn more and engage with you in the future. Offer them newsletters, future discounts if they leave you their email, links to other information they may want to learn about, etc. These are opportunities to be able to contact these people in the future even if they did not click over and fill out your free estimate or contact form. They may just be price shopping and would like the opportunity to try you later if you sent them a discount offer and would be willing to just leave you their email address but not their name, so don't require it.
I know this has been a little long but I hope you will come back and view the follow up posts that we will have. To be sure you are included, you can join our e-mail list, at the top right of this page, and you will receive newsletters or you can go and like our Facebook page's or subcribe to this blog and you will know when new posts are added. You can even follow us on Twitter. All buttons are at the top of this blog page. Thanks for reading.