First I want to wish each and everyone you a Happy Holiday season for what ever holiday you and your family will be celebrating.
Next I must let you know about a general across the board price increase that will go into effect on Jan 2nd, 2013.
As many of you know we try very hard to not make product price changes unless absolutely necessary. And most times it is only for certain items as they are effected by specific ingredient price changes. But once every 3-5 years we do have to make an all over adjustment to counter the everyday, always increasing, small price changes that we as a business face each and every day for office supplies, insurance, postage, packaging, product cost and delivery rates of the inventory items we take in and use.
So because of these we are having to make an average 3% price increase for all products. For small items it will be as little as 50 cents but for a some of our very popular kit items most will see an average $10 increase per ordered item. The complete new price list will be available on our web site very soon but those that would like one now, please e-mail me at info@soapwarehouse.biz Subject Line: Price List and I will send a copy by reply e-mail.
Now for some good news! We have a few items that you can buy and use that will save you money when buying from Soap Warehouse through out the year.
First is a handy Soap Warehouse calendar mouse pad for your desk. Order this from our Zazzle store and you will get $10 off your first order in 2013. A single mouse pad runs $12.50.
Order Mouse Pad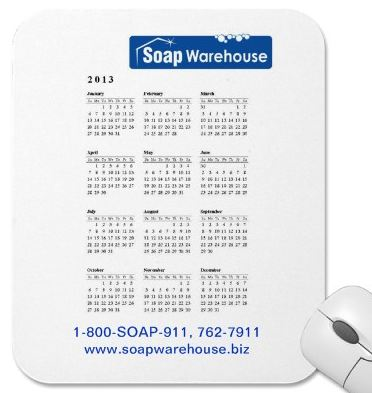 For even more savings each and every month order our 2013 Product Savings Wall Calendar. With this purchase from our Zazzle store you will get a $20 rebate credit on your account to use during the year, plus you can use the posted savings for products featured for that month in the calendar for the discount mentioned. You can only use the calendar discount for the specific product(s) and not inconjuention with your $20 rebate credit. Order Calendar